Builds towards efforts to bring Article 6 developments from concept to reality
Potentially the first carbon project in Ghana aiming for corresponding adjustments by a Singapore-based investor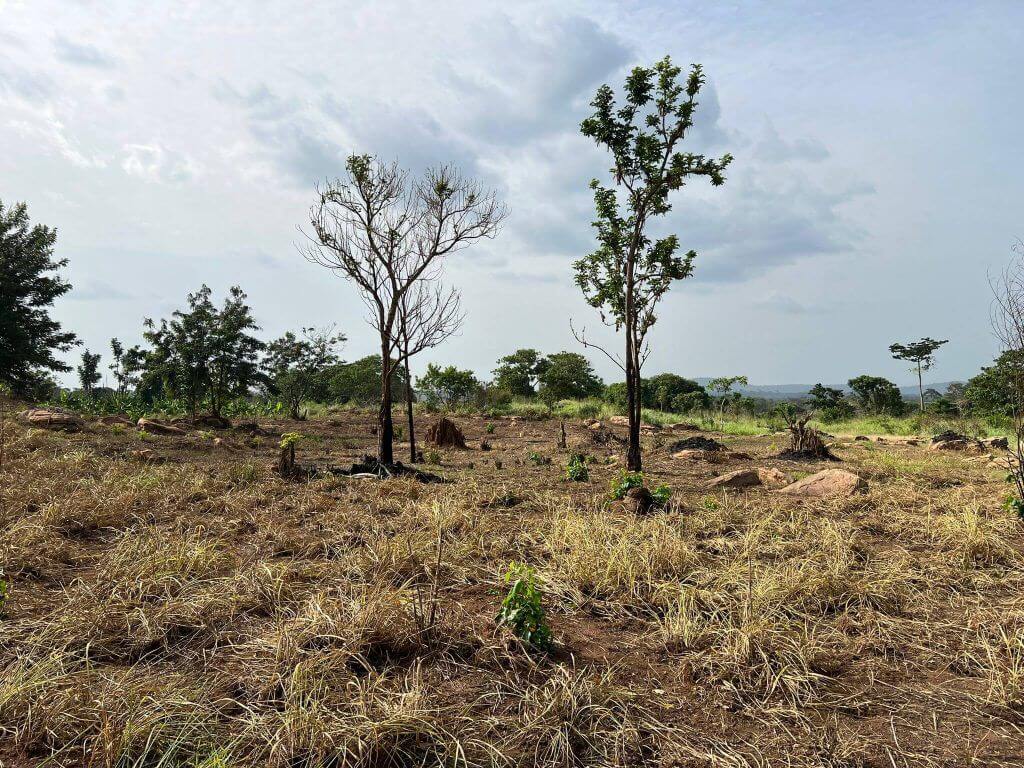 SINGAPORE – June 8, 2023 – GenZero, a Temasek-owned investment platform company focused on accelerating decarbonisation globally, has signed a Memorandum of Understanding (MoU) with AJA Climate Solutions (AJA), to invest in a landscape restoration project in Ghana. The investment aims to restore degraded and deforested landscapes in the Kwahu area, while enhancing the lives and livelihoods of local communities.
The Kwahu project builds on Singapore's intergovernmental partnerships on Article 6. In November 2022, substantive negotiations between Singapore and Ghana were concluded on the Implementation Agreement on Cooperative Approaches which enables the bilateral transfer of carbon credits aligned with Article 6 between both countries.
Carbon credits traded under this Implementation Agreement, when completed, could potentially be used to offset part of corporates' carbon tax liability under Singapore's carbon tax. The project could mark a first for Singapore if it generates carbon credits with corresponding adjustments under this Implementation Agreement.
About the Kwahu project
The project is located in the greater Kwahu area in Ghana's Eastern Region where there is a highland and lowland forest system that borders the Volta Lake. The project will regenerate an estimated 100,000 hectares of degraded lands, restore the landscape's biodiversity and transform it into an economically-productive ecosystem for the local indigenous population.
This will additionally create new income opportunities for the local indigenous communities through agroforestry practices training and job creation, and empower 22,000 members of the local community with the opportunity to actively participate in the farming system and improve their livelihoods.
Due to commence by Q4 2023, Phase 1 of the project will focus on regenerating deforested cocoa lands and rewilding off-reserve forests across Kwahu East, Kwahu South and Asante Akim North. This will be followed by Phase 2 in 2027 which will focus on regenerating native tree species across degraded forests at the Kwahu Afram Plains. The project seeks to apply new methodologies under Verra and align with Article 6 of the Paris Agreement.1
Why Ghana?
Ghana provides a conducive environment for Nature-based Solutions (NbS) restoration projects. The country is rich with biologically-diverse forest ecosystems and productive agriculture and agroforestry lands, represented by a mosaic of forest reserves and national parks that are surrounded by farms and fallows.
Ghana's tropical climate and natural habitats resemble Singapore's natural eco-systems. However, climate change, along with deforestation arising from agricultural expansion and logging, has degraded the landscape significantly, resulting in the need for NbS projects.
From a governance and policy context, Ghana has been progressively developing its climate and carbon-related readiness, with a clear Climate Change Policy, comprehensive National REDD+ Strategy, committed Nationally Determined Contributions, and one of the first few countries globally to release a comprehensive Article 6 policy.
GenZero's investment into the landscape restoration project follows the expected agreement between Singapore and Ghana to unlock carbon financing for businesses, while advancing their respective climate ambitions. The Kwahu carbon project aims to generate carbon credits with corresponding adjustments, which are critical in avoiding the double counting of underlying emissions reductions or removals when carbon credits are traded.
Frederick Teo, CEO of GenZero, said, "We are excited to work with AJA Climate Solutions to deliver meaningful climate action in Ghana. The team's deep understanding of the Kwahu region, along with their passion and commitment to making a difference gives us the perfect opportunity to showcase a new supply of carbon credits with corresponding adjustments. Our collaboration in Ghana represents an important effort to ensure the integrity, quality and transparency of the carbon credits that we develop, and bring about positive impact to the local community and ecology of Ghana."
AJA is a Singapore-based company focusing on scaling opportunities in the carbon market by generating and managing climate mitigation projects in Africa and Southeast Asia. The name AJA Climate Solutions is inspired by the word 'AJA' is from the Yoruba language which means the Spirit of the forest and the animals living there. Yoruba is the language spoken by the indigenous people southwestern Nigeria. Yoruba is a familiar language to the founders of AJA Climate Solutions – John Mason and Alan Hodges – both of whom were born and spent their formative years growing up in Nigeria.
John Mason, Co-CEO of AJA Climate Solutions and Founder of leading African conservation NGO, Nature Conservation Research Centre, said, "This pioneering project offers a road map for restoring highly degraded tree crop landscapes at scale and in a manner that will return significant forest cover with biologically-diverse, carbon-rich and economically-productive agro-forestry systems for the indigenous population, while meeting the Article 6 Corresponding Adjustment priorities of Ghana and Singapore."
1 Article 6 acknowledges that countries can pursue voluntary cooperation in the implementation of their Nationally Determined Contributions, including through market-based mechanisms.
About GenZero
GenZero is an investment platform company focused on accelerating decarbonisation globally. Founded by Temasek, we seek to deliver positive climate impact alongside long-term sustainable financial return by investing in opportunities with the potential to be nurtured into impactful and scalable solutions.
Driven by a common purpose to decarbonise for future generations, we recognise the need for a holistic and integrated approach to achieve a net zero world. At GenZero, we adopt a flexible investment approach across three focus areas to drive climate impact: (i) nature-based solutions that help protect and restore our natural ecosystems while benefiting local communities and biodiversity; (ii) technology-based solutions that deliver deep decarbonisation impact; and (iii) carbon ecosystem enablers which refer to companies and solutions that support the development of an effective, efficient, and credible carbon ecosystem.

For more information on GenZero, visit https://genzero.co/.
About AJA Climate Solutions

AJA Climate Solutions (ACS) is a Singapore-based entity started with the purpose of commercialising the opportunities of carbon markets. The company aims to generate and manage nature-based climate mitigation projects in Africa retaining oversight of the entire life cycle of projects in order to deliver transparency and accountability to all stakeholders. ACS has its foundations in 30 years of on-the-ground work in Africa on climate, community and carbon initiatives by the Nature Conservation Research Centre.
For more information on AJA Climate Solutions, visit https://ajaclimatesolutions.com/.