With a target size of €600 million, the inaugural Lightrock Climate Impact Fund was significantly oversubscribed and closed on €860 million after raising its initial hard cap.
The Fund will make initial investments of €10-40 million in growth-stage companies driving net-zero innovation in Europe and North America.
The close of this Fund follows a period of significant fundraising at Lightrock, with more than $2 billion raised in little over a year.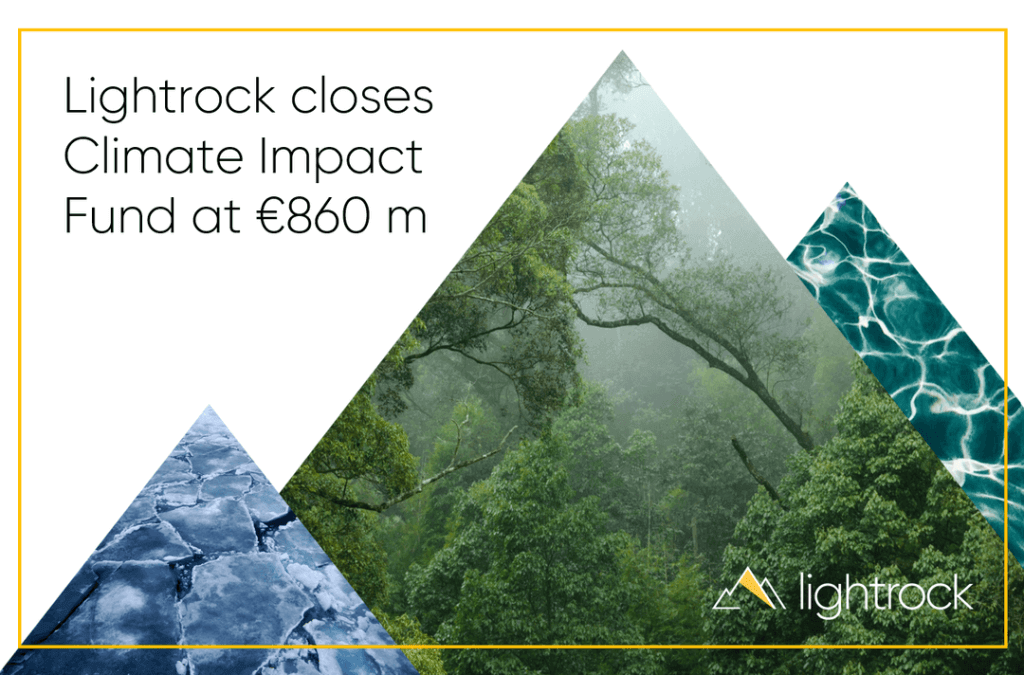 Lightrock, a global private equity platform that backs purpose-driven entrepreneurs tackling the world's biggest challenges, has closed its inaugural Lightrock Climate Impact Fund ("LCIF" or "the Fund") with commitments of €860 million, after raising its initial hard cap.
LCIF was oversubscribed with demand exceeding the €600 million target. This can be attributed to strong support from Lightrock's anchor investor LGT and its Private Banking clients, Lightrock co-investments as well as a diverse range of new high-quality investors including: First Swedish National Pension Fund (AP1); New Zealand charitable foundation, Bay Trust; Netherlands-based climate technology focused investment platform, Carbon Equity; an investment platform company wholly-owned by Temasek, dedicated to accelerating decarbonisation globally, GenZero; European asset manager, Golding Capital Partners; US-based charitable foundation, Grantham Foundation; Thai energy and infrastructure group, GULF; German family-owned investment holding, Haniel; Australian pension fund, NGS Super; Austrian insurance group, UNIQA; and Dutch impact investor, Wire Group.
The close of LCIF follows an intense period of fundraising at Lightrock, which has seen it close a Latin America focused growth fund with commitments of $300 million in May 2022 and the Lightrock Growth Fund I with commitments of $900 million in June 2021.
The Fund will make investments with a typical initial ticket size of €10-40 million in European and North American growth-stage companies that are innovating towards a net-zero economy and building an operating system for climate action. The Fund may also include a modest allocation to early-stage companies, provided they have clear potential to emerge as leaders within the climate themes it invests across and are showing emerging commercial traction. Four of these themes correspond with the technology mix required to achieve net-zero by 2050 – Energy Transition, Decarbonising Industries, Sustainable Food & Agriculture and Sustainable Transportation – with an additional cross cutting focus area centred on the underlying Enabling Technologies & Solutions that support decarbonisation across sectors and industries.
Lightrock has already made seven investments in leading companies operating across its investment themes and in accordance with LCIF's investment strategy. These assets are warehoused for the Fund and serve as a clear demonstration of its aims and ambitions.
Lightrock's experienced investment team and dedicated impact professionals employ an entrepreneur-centred approach to value creation. This encompasses the provision of strategic and impact-focused advice, the strengthening of functional capabilities and governance, and leveraging Lightrock's global relationships to facilitate partnerships, financing, and fundraising.
LCIF is classified as an Article 9 Fund under the Sustainable Finance Disclosure Regulation. Each LCIF portfolio company will report on their impact on a regular basis, with each company also benefiting from Lightrock's proprietary approach to impact assessment and management. This approach has been subject to independent third-party verification.
Pål Erik Sjåtil, the CEO and Global Managing Partner of Lightrock, commented: "I want to extend my grateful thanks to our investors for their confidence in and support of our mission. This is Lightrock's third successful fund close in little over a year and it represents a resounding endorsement of our mission to scale impact investing."
Campbell Lutyens served as exclusive global placement agent for the Fund, while Goodwin Procter served as global fund counsel and Elvinger Hoss Prussen served as Luxembourg fund counsel.
About Lightrock
Lightrock is a global private equity platform that backs purpose-driven entrepreneurs tackling the world's biggest challenges. Lightrock invests in companies that pursue scalable and tech-driven business models around the key impact themes of people, planet, and productivity/tech for good. Lightrock's portfolio includes more than 80 high-growth companies in 14 countries across Europe, the USA, Latin America, Asia and Africa, supported by a diverse team of over 90 professionals based in 5 offices across these regions, including Lightrock's headquarters in London. Founded by Prince Max von Liechtenstein, Chairman of Lightrock and Chairman of LGT Group, Lightrock is backed by LGT, the international private banking and asset management group, and other leading global institutions.
‍